First five Saturdays of the month
This of the first Saturdays of five consecutive months ─ or "first five Saturdays of the month" ─ is a Marian devotional practice of the Catholic Church, born after the requests that Our Lady would communicate to Fátima to the visionary Lucia dos Santos.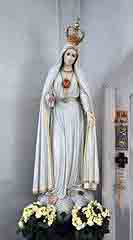 The Madonna di Fátima, in the alleged apparition of June 13, 1917, told Lucia dos Santos: "Jesus wants to use you to make me know and love. He wants to establish devotion to my Immaculate Heart in the world. »
On December 10, 1925, the Virgin would reappear to Lucia, together with the Child Jesus, with a new message: "To all those who for five months, on the first Saturday, confess, receive Holy Communion, recite the Rosary and keep me company for fifteen minutes meditating on the Mysteries, with the intention of offering reparations, I promise to assist them at the hour of death with all the graces necessary for salvation. »
This is the "Great promise of the Immaculate Heart of Mary".
The request of the devotional rite of the Five First Saturdays does not exclude the request of the Consecration of Russia to My Immaculate Heart and the reparatory communion on the first Saturdays [...] ».
This rite of the first five Saturdays is a minimum, or a starting point to assume the ability to communicate every first Saturday.
Details of devotion
1. Confession must be made within the previous eight days, combining the intention to repair offenses against the Immaculate Heart of Mary. If one forgets to unite this intention, it can be formulated in the following confession.
2. Communion must be done in the grace of God, with the same intention mentioned for confession.
3. Communion must be made on the first Saturday of the month.
4. Confession and Communion, made on the first Saturday of the month, must be repeated for five consecutive months, without interruption, otherwise you must start over.
5. The rosary crown, or at least its third part(*), should also be recited, with the same intention for confession and Communion.
6. Finally, a quarter-hour meditation on the mysteries of the Rosary is added, in spiritual union with Our Lady.
Lucia would have obtained from Jesus the following explanation concerning the choice of the number five:
«It is a question of repairing the five offenses directed at the Immaculate Heart of Mary:
1. The blasphemies against his Immaculate Conception.
2. Those against his Virginity.
3. Those against his divine Motherhood and the refusal to recognize her as the Mother of men.
4. The work of those who publicly instill indifference, contempt and even hatred against this Immaculate Mother in the hearts of the little ones.
5. The work of those who offend it directly through its sacred images »
(*) Here - after the addition of the Mysteries of Light made by Pope St. John Paul II - is meant the fourth part