I found myself
half in May - one fine morning - in our green garden .
The beauty of the flowers was for my enchantment .
A butterfly came to me to dance before the wind .
...send her away ... ? But why ... ?
She, too , dancing in the sun on the flowers ,
She wanted to sing anthem to
Beauty of the Eternal God .
God not only possesses the Eternal Beauty , but is the same beauty .
Garden
- the ancient language of Mesopotamia (now Iraq ) - also meant
heaven
.
It is in that language they were written a few pages of the Bible .
So we read in Genesis that God had placed man in paradise and there met him , when " was walking in the garden in the cool of the day " (Genesis 3: 8) .

In prayer, we cross the threshold of the Garden and it is there that we can meet God ,Who is
looking for us. There we meet the person who is the same beauty for which we were made.
You have made ​​us for Yourself , and our hearts are restless until they rest in you

.
Our garden is inside the building of the monastery where - in a striking beauty of colors and shapes - there is
the monastic chapel .
Here - we know - we can meet the Lord , who is looking for us.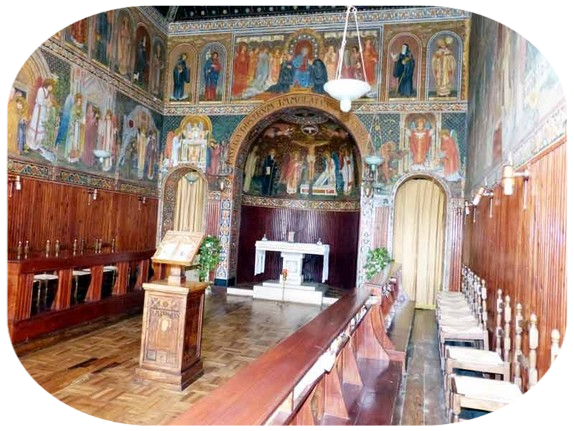 The beauty of the colors and images has the ability to create a religious atmosphere : just like in a church , with the sound of an organ .
But we know that God's presence in a place is not derived from the colors , the images or music - but the commitment of God to be there.
The ability to pick it up and of meeting Him , is by our faith .
Shortly before the photographs just seen we said that the possibility of receiving the Lord and in meeting Him , is by faith .
And if someone turns out not to have it ?
All receive faith in Baptism , but it may happen that one discovers not to have it any more ( that is, to have lost ) .
The causes of this loss can be many but - if now we feel nostalgia - what interests us is to find her .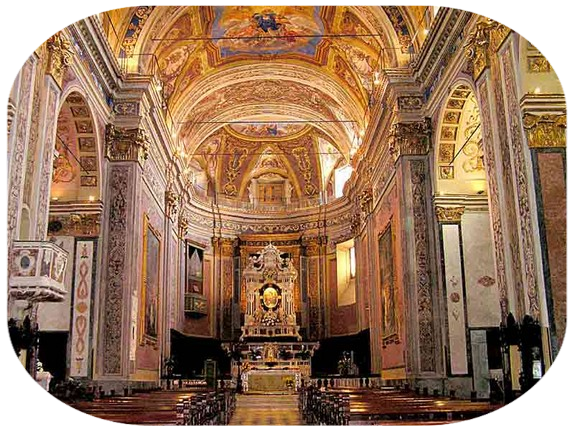 A way to find it is indicate in a well-known episode of the Gospel .
His parents went every year to Jerusalem for the Passover feast . When he was twelve years old , they went up according to the custom of the feast . But , after days were over and on the way back , the boy Jesus stayed behind in Jerusalem without his parents knowing it. Believing that he was in the company, they went a day's journey , and then they sought him among their relatives and acquaintances ; not finding him , they returned to Jerusalem looking for him . After three days they found him in the temple , sitting among the teachers , listening to them and asking them questions ( Lk 2 , 41 ) .
On the right : A church today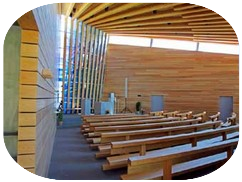 To regain the faith ( to meet Jesus again )
go yourself to the temple , that is, enters a church , and speak to Him .
You must seet alone with Him.
On the right : In the tabernacle Jesus is always waiting for us .
( Here the one of our monastic chapel )

The first step ...
It is to tell him that we would like to find him.
God listens to everyone, even those who are convinced not to believe !
... Show him that you want Him in your lives.
On the right : the face of the Man of the Shroud of Turin , reworked by NASA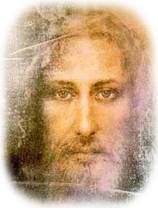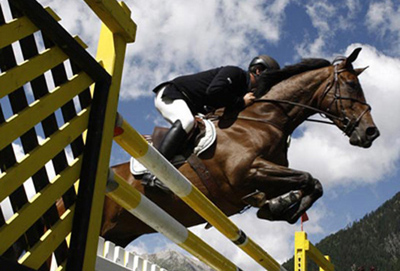 And how can you prove it?
We are beginning now to live as who lives like who believes in Him .
That is, you have to
DO
as is taught in schools of cavalry to overcome an obstacle : throw your heart over the obstacle , immediately begin to live according to His Word .
What do you mean ?
Begin to struggle against selfishness , which is not compatible with the Lord .
Sin is always a form of selfishness !
Everyone agrees that we must fight against the selfish behavior , but there are many different opinions about sin : there is even those who say that sin does not exist and that there is no point talking about it .
It is here that
go into the temple
to find Jesus, that is to consult a few people dedicated to God ( eg . A priest , like your old teacher of religion ) to talk withl you about Jesus .
If you want to establish contact with Him , you have to be in tune with Him .
You must jump forward ... without fear and without losing heart for the possible effects .
t

he L
ord will eventually respond .
With your victories over sin He will give you a sense of contentment completely new .
When you feel it , you'll know you're encountering the Lord !
Father Riccardo Lombardi (1908 - 1979) was a renowned lecturer and preacher .
One day he made a lecture on prayer . Eventually , a man said to him, " You said the very nice things about prayer , but how do I pray , as I do not have faith ."
Father Lombardi said : " You say the Our ​​Father , but instead of saying, Our Father who art in heaven ,say Our Father if you're in ... " .
Years later , a man approached him and said : " I'm the one who you told to pray saying if you are our Father in Heaven ... " .
I wanted to tell you that I did it for years , but now - for some time -I pray saying Our Father who art in Heaven ...
Now let's look at the church ...
THIS PAGE explained some aspects of our prayer life ( being with God ) .
But if you 'd like, you can find ways to get closer to the world of God even with the
Do you want to experience this ?
Do you want to instead continue to know more about our life of Benedictine monks ?