NORMALLY WE APPROACH THE LORD WITH OUR FAITH BUT ALSO THROUGH THE PAGES OF THE INTERNET IS

POSSIBLE IN SOME SENSE APPROACH HIM, WITH THE INTERNET WE ENTER IN A DIMENSION THAT MODIFY

TIME AND SPACE AND WE CAN TAKE ADVANTAGE OF A REALITY THAT ONE COULD NOT FEEL.
NASA (Government Agency responsible for the civil space program of the United States of America ) drew the face of the man of the Shroud , as it was before the torture which he was subjected .
There are many opinions on this tissue , preserved - as a valuable icon of the Lord - in the cathedral of Turin .
It is certain , in fact , that he wrapped a man who has suffered the same torments of Jesus, as is apparent from the pages of the Gospels that speak of the passion and death of the Lord .
The Man of the Shroud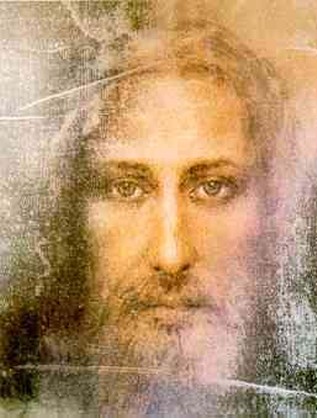 By clicking on the window shown here will open a new window that shows the Irish chapel Navan , where a webcam framing Jesus Eucharist , exposed 24 hours 24 .
So we can get in contact with your eyes and with your heart , with Him .
It is not a mirage or an illusion , but a real place in this world , where he is really and we see Him as He now appears to our eyes .
IS OLD TRADITION OF THE CHURCH THAT WHERE JESUS ​​IS ALSO MARY IS THERE !
NOW WE CAN NOT SEE THE MADONNA , BUT WE CAN SEE WHERE SHE HAS BEEN AND APPEARED : SO THAT THE CHURCH HAS RECOGNIZED THOSE APPARITIONS
Click
on the photo beside and watch live
Lourdes
. (Not visible with Edge ) .
Depending on the time of day you see the cave or some religious ceremony being held in Lourdes .
So you can express what , at this time , you care .
And say- why not? - a prayer ...
Our prayers are never lost :
they arrive at their destination and always receive a response .
Maybe not what we expected , but what we really need now .
Even the strength to go on
,
not to give up
is a response .
THE DIVINE SPIRIT GENERATED THE SON OF GOD IN MARY , BUT WE KNOW THAT THE SPIRIT IS FRUITFUL EVEN IN THE WORD OF THE BIBLE . IF WE READ THE SACRED TEXTS WITH REAL DESIRE TO MEET THE LORD, HE WILL ALSO BE BORN IN US : IN OUR WAY OF THINKING IN OUR WAY OF LIFE .



Move

your mouse and

click

on the photo at right : it will be possible to see all the books of the Bible and begin the search .
If you do not know where to start , why not you ask someone who knows more than you? A priest you know , an old religion teacher , maybe your confessor . Being able to establish contact with Jesus is essential for us . HE , in his day , was called MASTER .
CONSIDER HOW NICE TO SWIM ,SITTING IN FRONT OF A COMPUTER SCREEN , BUT YOU WILL NOT EVER ENJOY THE BEAUTY OF REAL SWIMMING .
On the right is playing for a few seconds , the rite of Mass , celebrated in our monastery some time ago . In this celebration there are also young men in their twenties , who are not monks . It is difficult to see them because they wear clothes suitable to the religious rite . They were here with us because they had heard a call and see if the Lord really wanted them to HIMSELF in a monastery . But without having experienced it is hard to know if the life of a monk is just a life for you .
JESUS ​​WANTS THE HAPPINESS OF ALL , BUT ESPECIALLY FOR HIMSELF HE HAD CHOSEN THE 12 APOSTLES . EVERYONE HAS HIS WAY : HAPPINESS IS REACHED FOLLOWING IT.
IT IS NORMAL THAT NOT ALL BECOME MONKS OR SISTERS .
You did not choose me , but I chose you . ( Jn 15 , 16 ) .
THIS SITE IS DEDICATED TO THE LIFE OF A BENEDICTINE MONASTERY , WHO IS ALSO A PARISH .
THERE' ARE VISITORS WHO LIKE TO HAVE JUST NEWS ABOUT LIFE PARISH ,
BUT THERE ARE INTERNET USERS THAT ARE ALWAYS LOOKING FOR A MEANING OF THEIR LIFE .
IS IN THE LORD THAT THERE IS A FULL SENSE OF OUR LIVES .
SAINT AUGUSTINE SAYING : "YOU DON'T BE LOOKING FOR HIM IF YOU HAD NOT ALREADY FOUND HIM ! " .