A Madonnina in the tourist port of
FINALE LIGURE

In the tourist port of Finale Ligure has been placed a statuette of Our Lady, inside a niche.

The brass nameplate (you can glimpse it on the plinth) tells:

"THE LADY OF THE SEA"
To perennial protection of all those who take risks on the waves.
Realized with the interest of the association "The Garosci of Pia,"
In memory of Luisito Ferrari
Work of Brocardo Emanuele- Course of ceramics -"Aycardi- Ghiglieri"-
Finale Ligure June 2001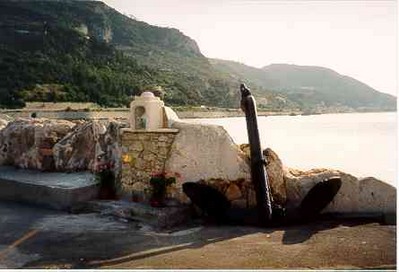 Abbot Emeritus Dom Placido Colabattista blessed the statue on
Saturday 9 June 2001

Close up of the niche that contains the Madonnina.
(On the glass that protects the statue from the saltiness glimpse reflected some boats moored in the harbor).