That star
Apostleship of the Sea
A special "Star"

One night at the Seafarers Center in Genoa, where who is away from home for many months can finally see his child.

by our correspondent in Genoa Lucia Bellaspiga

At 5.00, arrives the "Al Qusayr," flying the Egyptian flag. Next at 5.30, the "Ever Wealthy," Panamanian ship carrying aluminium. At 6.00, on the "Janas" loaded with cars, fly the Italian flag. At 7.00, enters the harbour the Turk ship "Osman Mete" .The volunteers of Stella Maris as every evenings, they are looking at the fax from the Harbour Master with the arrivals of the next day:« we go on board only on ships; where foreign crew, work in conditions of slavery, without any certainty of a salary, under flag of convenience, that make permissible the illegitimate. Or we go on board those ships berthing at wharves less equipped, without a telephone or a bar».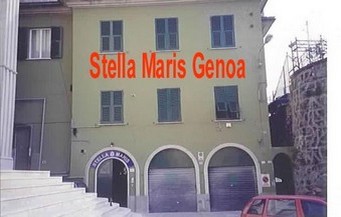 The sailors listen to: these are theirs histories. It is night and we are in the sober but pleasant Stella Maris Center. Outside the blade of light from the "Lanterna" (Genoa famous lighthouse) cut the dark with an equal rhythm, lighting the room, then light, dark, again light, and longer dark. Also the faces light up, and are different for color and features. There is Nicola the Romanian, there is Ajit the Indian, there is Rommel the Filipino, and there are also Alì and Ahmed from Iran. Later on, also two Chinese arrive, they greet everybody, and they go directly to the billiards. Do you know them? « No, but Stella Maris is present in hundred of harbours around the world, seafarers know it and as soon as they are in port they look for it- a volunteer explain - Or we are looking for them». At the Stella Maris in Genoa they know well seafarers,« people that for months doesn't see their family, living in narrow spaces, working 12 hours a day for little money. For example a Russian a family man, has been send to Genoa to join his ship: he doesn't speaks Italian, the agent paid by the owner should take care of him but he doesn't, the Russian doesn't know his rights. At sea for a month and arrives in Singapore, where the ship stay few hours. Then return to Genoa, some time to a private berth, where there are no immigration facilities, if the agent doesn't take care of the crew; they are not allowed to go ashore. On the wharf not a bar, not a shop. He is desperate, the few hours gone, the ship returns to Singapore».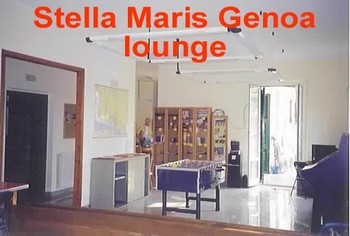 The teams of volunteers- two groups of boys that visit ten ships a day- when they go on board they bring a smile, information in various languages, cellular phones to call home, an invitation to the Stella Maris Center, in a word, welcome. Also for those who prays in a different way. « Always welcomed - they assure us-: without distinction of faith, the seafarer is a man of great spirituality, condemned to think a lot while working in silence, alone. When he goes ashore he needs soap and other necessities, but above all values like prayer, comfort, and friendship». And news from their families:« Even if they had the opportunity to talk often to their loved ones, they did not see each other for a long time and this make a big difference. At times meanwhile a child is born, a brother have died». That's why at Stella Maris there are nine Internet Stations equipped with video camera: so people can look at each other from one side of the world to the other. Now Nicola a Romanian tell us:« I have been at sea for 8 months, my wife has given birth to ours first daughter and I don't know how she looks like. Today we have scheduled a meeting, I'm in the Stella Maris, and she is in an Internet Cafe of Bucharest: this evening I will know my daughter». His emotion is the same as the one of Ajit an Indian:« I have met the chaplain on my ship: he asked me why I was crying, I did explained that my child was born three months ago and I did not have a chance to talk to my wife. But the chaplain came aboard with a cellular phone, to help people like me.» The two Iranian men are very familiar with the place, their ship is in port for repairs already twenty days and often at night they are here. This time they have brought butter and biscuits. Rough men, but they speak about God. Also with a Christian:« Without distinction of faith, the seafarer has an open mind and is thirsty for prayer. People ashore don't imagine how much the sea unites: in the Balkan the war raged and on ships Serbs and Croatians worked side by side.»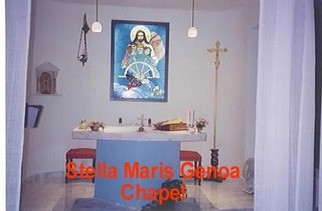 It is almost surreal to talk about God, in this Genoese night, with sailors from around the world, so different, so equal at the same time. In the chapel start the prayer and each of the man follows it on his own way. The Filipino follows the prayer, on his ship all day long the rosary bounces from the holds to the bridge through the loudspeakers, with the voice of the captain. But also the Hindu, for twenty minutes with his eyes closed and his hands together. Alì and Ahmed, listening to. At last is time for Nicola, everybody waiting for. The Romanian sits down in front of the computer. After few instants an image appears (out of focus), that moves and flickers, in black and white, but it's the best he has ever seen: she is called Nadja and she is four months old. And for a little bit she is a daughter for all the seafarers present.



Freely translated by an article on "Avvenire" 5 July 2002