Devotion to the Divine Mercy


Will You Help Me
'Do whatever is within your power to spread devotion to My Mercy, I will make up for what you lack. Tell aching mankind to come close to My merciful Heart, and I will fill them with peace"
(From Spiritual Diary of Sr. Faustina)


Sister Faustina was beatified by Pope John Paul II on 18th April, 1993.
Recognise My Mercy Now - While there is still time


Jesus said:- "Write down these words, my daughter. Speak to the world about My Mercy: let all mankind recognise My unfathomable mercy. It is a sign for the end times: after it will come the day of justice. While there is still time, let them have recourse to the fount of My Mercy: let them profit from the blood and water which gushed forth for them.
Diary of Sister Faustina (II .229-230)


Reason for the Devotion to the Divine Mercy

As unpleasant or out-of-place some people may consider the thought of the "end times" to be, there is no way of avoiding the fact that today, Jesus is calling all mankind to turn with devotion to His Divine Mercy as a preparation for His return in glory.
Jesus said:
"Tell Souls who spread the honour of My Mercy I shield through their entire life and at the hour of death I will not be a judge for them, but the Merciful Saviour".
Diary of Sister Faustina (111.1075)

Sister Faustina said:
"That beautiful soul who is spreading this work of Divine Mercy throughout the world is, by their deep humility, very pleasing to God.
Diary of Sister Faustina (III 1083)

Jesus said:
"Tell my priests that hardened sinners will crumble beneath their words when they speak about My unfathomable mercy, about the compassion I have for them in My heart. To priests who will pro-claim and extol My mercy I will give wonderful power, and I will anoint their words and I will touch the hearts to which they will speak".
Diary of Sister Faustina (V. 115)


'The Image'
(February 22nd 1931)


Jesus appeared to this humble nun bringing with Him a wonderful message of Mercy for all mankind. Sister Faustina tells us in her diary under this date: "In the evening, when I was in my cell, I became aware of the Lord Jesus clothed in a white garment. One hand was raised in blessing, the other was touching the garment at the breast. From the opening in the garment at the breast there came forth two large rays, one red, and the other white. In silence I gazed intently at the Lord, my soul was overwhelmed with fear, but also with great joy. After a while Jesus said to me: ' Paint an image according to the pattern you see, with the signature: Jesus, I trust in You."

Some time later, Our Lord again spoke to her: "The white rays stand for the Water which makes souls righteous: the red rays stand for the blood which is the life of souls. These two rays issued forth from the depths of My most tender Mercy at that time when My agonizing Heart was opened by a lance on the cross... Fortunate is the one who will dwell in their shelter, for the just hand of God shall not lay hold of them."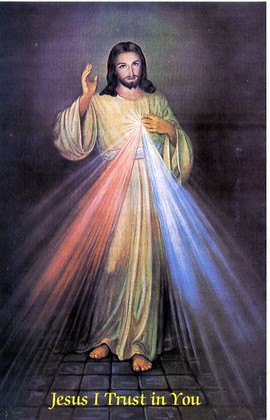 The Feast

As a further sign of His forgiving love, Jesus called for a Feast of his Divine Mercy to be celebrated in the whole Church . He said to Sister Faustina: "I want this image to be solemnly blessed on the first Sunday after Easter; that Sunday is to be the Feast of Mercy. On that day, the depths of My Mercy will be open to all. Whoever will go to confession and Holy Communion on that day will receive complete forgiveness of sin and punishment. Mankind will not enjoy peace until it turns with confidence to My Mercy."


The Chaplet

Jesus said later to Sister Faustina "Say unceasingly this chaplet that I have taught you. Anyone who says it will receive great Mercy at the hour of death. Priests will recommend it to sinners as the last hope. Even the most hardened sinner, if he recites this Chaplet even once, will receive grace from my infinite Mercy. I want the whole world to know My infinite Mercy. I want to give unimaginable graces to those who trust in My Mercy."


The Chaplet can be said on ordinary Rosary beads.

"First say one 'Our Father", 'Hail Mary' and 'I believe in God'.

Then on the 'Our Father' beads say the following words:

'Eternal Father, I offer You the Body and Blood, Soul and Divinity of Your dearly beloved Son, Our Lord Jesus Christ, in atonement for our sins and those of the whole world'.

On the 'Hail Mary' beads you will recite the following words:

'For the sake of His sorrowful Passion have mercy on us and on the whole world'

In conclusion you will recite three times these words:

`Holy God, Holy Mighty One, Holy Immortal One, have mercy on us and on the whole world,'


THE NOVENA

Jesus further asked that this Feast of his Divine Mercy be preceded by a Novena of chaplets which would begin on Good Friday (Though this Novena gets particular graces if recited in this period, it could be recited at any time of the year.) He gave a special novena to (Sr. Faustina) to say for nine days for his own intentions saving for the last day the most difficult intention of all the lukewarm and indifferent of whom He said: "These souls cause Me more suffering than any others it was from such souls that I felt the most revulsion in the Garden of Olives. It was on their account that I said: "My Father, if it is possible, let this cup pass Me by. The last hope of salvation for them is to come to My Mercy now.:

A Novena to Obtain Graces through the Intercession of Blessed Sister Faustina

Jesus, you gave your servant, Sister Faustina the gift of deep reverence for your unending Mercy. I ask you if it be Your holy will, to grant me, through her prayers, the grace for which I fervently pray...

Because of my sins, I don't deserve Your mercy, but ask you to remember Sister Faustina's Spirit of sacrifice and self-denial, and to be gracious to her faithful love of You by granting the petition which I make to You now, with childlike trust through her intercession. Amen.

This Novena may be used at any time, but it should be said especially for her canonisation nine days before the 22nd February, the date when she first received the Image of Divine Mercy.


Will You Help Me?
Why Me?


God usually chooses the weakest and simplest souls as tools for his greatest works; this we can see when we look at the first men he chose to be his Apostles; or when we look at the history of the Church and see what great works were done by souls that were least capable of accomplishing them; for it is in this way that God's works are revealed for what they are, the works of God.

THE APOSTLE OF DIVINE MERCY

Sister Faustina was born Helen Kowalska the 25th August 1925 in the village of Glogowiec near Lodz, Poland, the third of ten children. At the age of twenty she entered the Congregation of the sisters of Our Lady of Mercy. These sisters devoted themselves to the care of young women who were morally and materially impoverished.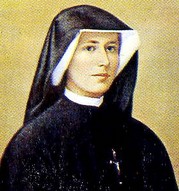 In 1934, in obedience to her spiritual director, Sister Faustina begun to keep a diary which she entitled "The Divine Mercy in My Soul." This detailed account of profound revelations and extraordinary spiritual experiences reveals the manner in which Our Lord entrusted to her a very special mission, namely, to announce to the world the message of, and new forms of devotions to, His Divine Mercy.

On the 5th Ocotber 1938, at the age of 33, Sister Faustina died, of a lung disease, in Cracow, one year before the outbreak of World War II, a war which she had foretold, even indicating its extent and horrors.

APOSTLES PRAYER
Merciful Jesus, we believe in You,
and we trust in you.
Come to the aid of our weakness and our
incapacity.
Grant that we may be able to make You known
and loved by all
and confident in the immensity of Your love
we may be able to combat evil which is in us and
in all the world
for Your Glory and our salvation.
Amen. NOVENA TO DIVINE MERCY