New Icon
Apostleship of the Sea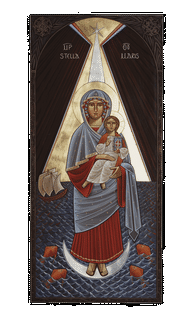 Stella Maris Icon Unveiled

At Apostleship of the Sea Conference LONDON, JUNE 10, 2005 -

Seafarers now have a new icon of their patroness, Stella Maris, unveiled at the annual conference of the Apostleship of the Sea.

Cardinal Stephen Fumio Hamao, president of the Pontifical Council for Migrants and Travelers, blessed the icon of Our Lady Star of the Sea ("Stella Maris" in Latin), during Mass on Tuesday in London.

Cardinal Hamao, whose council coordinates the Apostleship of the Sea at an international level, said in his homily that there is a good reason for identifying seafarers with the Stella Maris.

"All those who know a little about the history of navigation know how important the star is for a navigator," he said.

"The star is the beacon that gives the right direction and allows the ship to continue on its route and reach port safely; and also in our lives Mary is the star that guides us, protects us and intervenes in our favor," the cardinal said.

Cardinal Hamao continued: "All over the world, seafarers and fishermen have a special devotion to Our Lady Star of the Sea as they daily confront the dangers of the sea and confide in her protection."

The new icon was painted in the neo-Coptic style by internationally renowned iconographer Stephane Ren?and was unveiled last Saturday at a special Mass in Glasgow.

In his address to the delegates, Cardinal Hamao also spoke about Pope Benedict XVI's concern for itinerant workers such as seafarers.

Remembering the day of the new Pope's election, Cardinal Hamao said that when he approached the Holy Father to pledge his obedience, Benedict XVI said: "We shall work together for the people on the move!"

The cardinal said: "To me it was a great joy as I felt it was a great encouragement for all those who have left their houses, family and country to know that they have a place in the heart and prayers of the Holy Father, and of the Church.