The liturgical transformation of 2005
In 2005, Holy Week fell from 20 to 27 March: Palm Sunday on 20 and Holy Easter on 27. The only place that could be used for the
Tomb on Holy Thursday

(24 March) was the
Chapter.
From the Chapter, in the center of the right wall (right in front of the ancient door to the underground cistern room), a door opened in what must have been the
Representation Hall of the Monastery.
In this place we could have received the notable personalities (civil
aristocrats
and ecclesiastical ) who came to visit us - both individually and in groups.
In addition to the Emperor
Charles V

and various
Popes
, people of
high nobility
(men and women) came to our Church-Sanctuary who, in addition to praying to the famous
Madonna di Pia
, also needed to find there an adequate welcome to their high lineage.
The Monastery was part of this world and although it had to present itself with simplicity it was necessary that it had a certain style. A world dedicated to prayer had to know how to present itself with appropriate good taste, especially in the Renaissance in which it was born.
The remarkable room could also be used for meetings, conferences and musical performances of small chamber music groups.
Saint Teresa of Avila,
also of noble origins, had learned to play the guitar well. She so she happened that, when she felt that the mood was down in her monastery, she would hold one of her guitar and with the sound and the song she lead away everyone present, calming the environment.
It is known that in aristocratic families the firstborn inherited
the noble title
and all the family patrimony

. The brothers (cadets) had no choice but to enter the service of the king or some
powerful noble

personage, or choose between a
military career or an
ecclesiastical life
(less dangerous than that of arms and still able to provide (to the most fortunate and capable ) positions of such prestige as not to exclude even the papal Tiara.

F
or those who did not feel the vocation, the
golden and arduous advice

of St. Augustine was always valid: "Non es vocatus? Fac ut voceris "(Don't you feel called? Make sure you are): that is,
pray
to the Lord and commit yourself fully.
According to the Rule of St. Benedict the door of the Monastery was open to all free men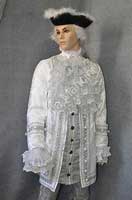 (servants or masters, nobles or plebeians). But when they were accepted as monks, everyone clothed themselves with the highest dignity:
Jesus

welcomed them as
brothers.
What we had been before was no longer of any account, before the Lord we had chosen to follow, because it is always
He
who chooses us first
....
Now we finally enter the
Conference Hall.
After the
Allied bombing in September 1944

, this place too has lost its original charm, due to the
massive use of
reinforced concrete
needed to restore it. The reinforced concrete caissons of the ceiling are only a palliative of the precious ornate caissons, which still adorn the ceilings of authentically Renaissance houses.