Sun 13 Aug 2023
RESEARCH
We want to remember
Abbot Beda
, who died on 20 July last, for a professional
RESEARCH
he did on behalf of our Abbey during the time he spent with us as a
Prior Administrator.
At the base of the Northern side of the monumental
Portal
that divides the First from the Second Cloister, there are two
Latin
inscriptions
(Epigraphs) which tradition has it that were obtained from
Pontifical Decrees
(collection of laws).
The two texts, which can be seen below, are not easy to read both due to the wear and tear of time (about 500 years, having been sculpted in 1522) and due to the limited ability of the Stone to keep epigraphs.
The
SEARCH
consisted in finding a
Latin text
on the
Internet
that reported the correct spelling and from
which Pontifical
Decrees
they had been obtained.
The professionalism of the research lay in the
appropriate questions
to be asked on the
Internet.
Abbot Beda succeeded in his intent: he found a Latin work from the 1600s which contained our texts and thus knew precisely from which papal decrees they had been obtained.
In the work:
"Variae ey selectae Decisiones Morales ad statum ecclesiasticum"
by
Francisco de Araujo
:
Lugduni
MDCLXIV.
Chapter De Ecclesiastico statu, p. 94, first column, line 15, the two sentences of the
Pontifical Decrees of Innocent
III
(1161-1216) are mentioned, reported on the jambs of this portal.
THE TWO WRITINGS OF THE CLOISTER
EAST SIDE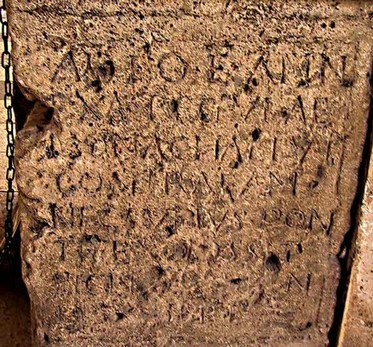 WEST SIDE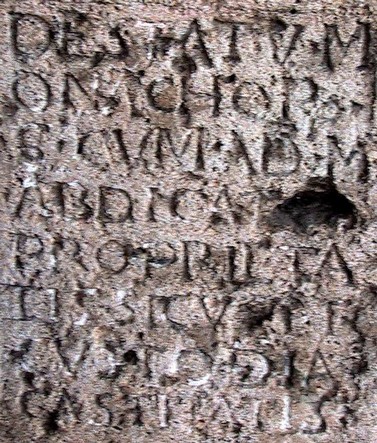 ABOUT THE MONASTIC
STATE
THE WAIVER
OF THE PROPERTY
LIKE CARE
OF CHASTITY
THERE ARE
ANNEX
TO THE MONASTIC
RULE
THAT EVEN
THE SUPREME
PONTIFF
CAN GRANT
DISPENSATION
NOTE: FROM THE MEANING OF THE RESPECTIVE TEXTS, IT IS BELIEVED THAT THE INSCRIPTIONS WERE EXCHANGED AT THE TIME OF THEIR POSITION BY PERSONNEL WHO IGNORED THEIR CONTENT: THE ONE TO THE WEST SHOULD BE TO THE EAST AND VICE VERSA.