3.THE PIETA OR LAMENTATION OVER THE BODY OF CHRIST (1530-1533)
located in the second Cloister
(click on the photos)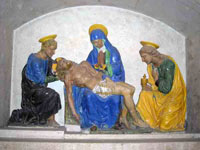 Of the three majolica specimens of the Scuola robbiana (first half of the 16th century), which are preserved in the abbey of Finalpia (Savona), the one with the highest artistic level is
PIETÀ
, the work of
Santi Buglioni
(1494-1576), a Tuscan sculptor very well known and repeatedly mentioned in the Treccani Encyclopedia.
This fact is already remarkable
given that the other two specimens are the work of anonymous (although they are usually attributed to the workshop of
Giovanni della Robbia
).
But the differences
between
the "Pietà" and the two specimens mentioned above do not stop here.
While in fact in the other two groups characters are
embedded in the wall,
in this "Pietà", the figures
are all round and wrapped in a dynamism
that is completely absent in the others.
On the other hand, unlike the other specimens, the "Pietà" is

devoid of decorative elements

(vegetable festoons, heraldic coats of arms).
Furthermore, in "piety"

the shine of the majolica

is reserved for the

drapery

while the human body, dark and opaque, is devoid of it. This detail is due to a special search for realism that suggests to the artist - inspired, as regards the composition, to the

"Vatican Pietà by Michelangelo"

- to give greater emphasis to the anatomical factor, as is apparent from the

three-quarter twist of the bust of Christ

, with half-closed

eyelids

, bloodless

left hand

and dead

right arm

. With this work it can be said that the Della Robbia school produced its latest masterpiece.
Let's try to examine this group more closely to find out some details:
not with the eye of the art critic,
but rather with that of the heart.
On the right, with the

gesture

of bringing her left hand to her breast,

Mary of Magdala

expresses all her

dismay

at the corpse of the Rabbi of Nazareth who had read them in her heart, had freed her from the chains that tied her to a sad past and he had forgiven her all ...
The

jar

of some ointment, which she holds in her right hand, tastes a little

pathetic

, in the face of the destruction of that corpse.
It almost seems that this Mary, anxious to do something more for Jesus, at the last moment took what she had at hand, without considering the inadequacy of what she was doing.Nicodemus, a more practical man, will carry
thirty kilos
of
a mixture of myrrh and aloe
, for that purpose.